Eye Disease Management at Vision Source Castle Hills in Northern San Antonio
At Vision Source Castle Hills, we provide routine eye exams and ongoing eye disease management to our patients. It is always a good idea to visit your northern San Antonio eye center at least one time a year for an eye exam. These exams provide us with outstanding information about your vision, but also about your eye health. The sooner eye diseases are caught, the more effectively we can treat them and, in many cases, prevent them from worsening.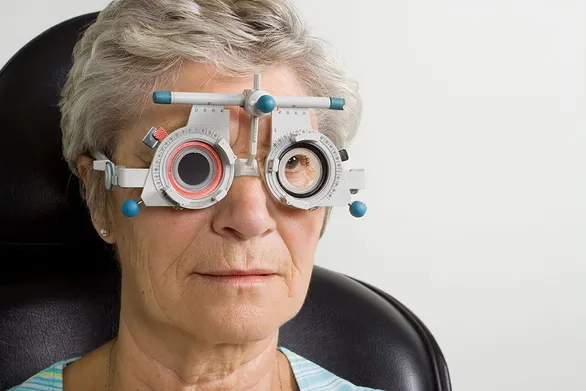 How Can Your Northern San Antonio Optometrist Help You?
When you meet with your northern San Antonio optometrist, we'll provide a full examination and help you with prevention, diagnosis, treatment, and ongoing care. If you are currently suffering from any type of eye condition, we recommend coming in to create a customized treatment plan from your San Antonio eye doctor to address your needs.
What Types of Disease Can Your Optometrist in Northern San Antonio Help You With?
Your optometrist in San Antonio offers comprehensive care for a wide range of eye diseases and conditions. That includes the following:
Glaucoma: Glaucoma is a condition in which a higher than normal level of pressure is present on the inside of the eyes. This condition has few, or more commonly, no symptoms. Called ocular hypertension, this conditions impacts 2.2 million people in the US. It is one of the most common causes for blindness. Your northern San Antonio eye doctor will monitor this condition with you by taking ongoing pressure measurements and working with your medical doctor to control pressures.
Macular Degeneration: For macular degeneration, northern San Antonio clients can expect us to provide ongoing care and management of this condition, which impacts 10 million people. There are several forms of macular degeneration. Here, a deterioration of the macula, or a portion of the retina that controls visual acuity, occurs. You may notice a change in your ability to read, recognize faces or drive with this condition.
Diabetic Retinopathy: Diabetic retinopathy occurs when damage to the blood vessels in the eye occurs as a result of having diabetes. This condition is monitored every year in those who have been diagnosed with diabetes. We'll work with your medical doctor to treat this condition.
Dry Eye: Dry eye is a type of chronic condition in which the eyes do not produce any or enough quality tears, leading to itchy, scratchy eyes. This condition can be resolved with medications or other minimally invasive treatments.
Cataracts: Cataracts are a thin, milky film that develops on the outside lens of the eye. Individuals with this condition often develop limited or fuzzy vision. Our goal is to monitor the condition through eye exams and treat it by removing the cataracts.
When you work with your eye doctor in northern San Antonio, you can monitor for these conditions. And, if we notice development of cataracts, dry eye, or macular degeneration in northern San Antonio patients can count on us to provide exceptional care and treatment. Call (210) 341-5774 for an appointment.