Contact Lens FAQs with Our Northern San Antonio Optometrist
With many years of combined experience and a dedication to providing high-quality care to patients of all ages, we are proud to be your trusted optometrist in northern San Antonio. Whether it is time for your annual eye exam or you're interested in making the switch for eyeglasses to contact lenses, our friendly and knowledgeable northern San Antonio eye doctor has the skills necessary to help you see clearly for many years to come.
Have you been thinking about making a big switch to contact lenses? Our highly-skilled eye doctor in northern San Antonio is here to answer your questions!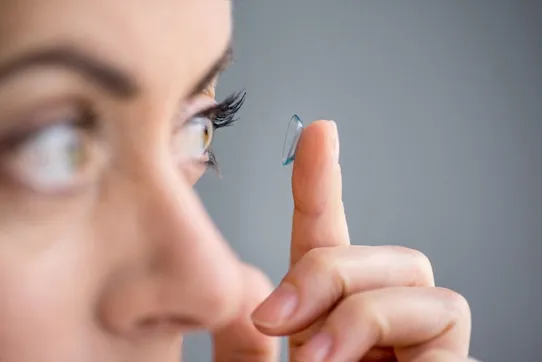 How Long Does it Take to Get Used to Contact Lenses?
While each patient is different, comfort usually comes down to the type of contact lenses you choose. For those wearing soft contacts, it typically takes just a few days to feel comfortable. However, rigid gas permeable and hybrid contact lenses may feel uncomfortable for a couple of weeks or longer. In some rare cases, patients may never really feel comfortable wearing contact lenses but can still wear them safely.
Is it Difficult to Care for Contacts?
As long as you follow a few basic steps, caring for your contact lenses shouldn't be a difficult task. Proper care will help to ensure that your contacts last longer and your eye stays healthy. If you are worried about care and maintenance for your contacts, you may be a good candidate for daily disposable contact lenses, so be sure to ask our northern San Antonio Eye Doctor for more information!
What Kind of Contacts are Available to Me?
Contact lenses are available in a variety of different materials and feature different replacement and wear schedules as well.
Conventional soft contact lenses can last for up to a full calendar year
Conventional RGP contact lenses can last for more than 1 year
Disposable contact last anywhere from 1 day up to 2 weeks
Some of the special contact lens options available include bifocal contacts, colored contact lenses, contact lenses for astigmatism and even UV-blocking contacts
I Want a Specific Type of Contact Lens. Where Can I Buy Them?
First, you must have a contact lens prescription before you can purchase contact lenses. This means you'll need to schedule an eye exam and contact lens fitting with our northern San Antonio optometrist before you buy. Even if you're only interested in colored contact lenses, you are required to get an eye exam and contact lens fitting first!
Contact our Eye Doctor in Northern San Antonio Today!
Want to learn more about the benefits of contact lenses? Call (210) 988-9517 or contact our eye doctor in northern San Antonio online today to schedule an appointment.