Vision Source Castle Hills: Quality LASIK Care in Northern San Antonio
Have you ever thought about LASIK surgery to correct your vision? If you've been wearing contacts and eyeglasses for years but find that they get in the way of your day-to-day activities, then LASIK may be a great option for you. As your local northern San Antonio optometrist, the team at Vision Source Castle Hills is happy to check your eligibility for LASIK correction surgery and find a trusted referral in the field. From your initial evaluation to post-operative care, we are your number one source for LASIK care in northern San Antonio.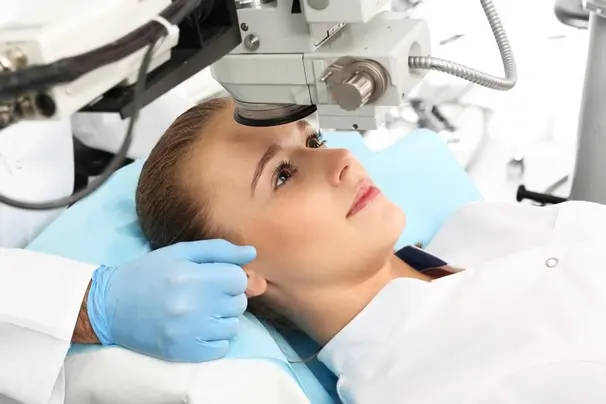 What is LASIK?
LASIK surgery has been proven to be successful in treating a variety of common vision conditions, including:
Myopia
Hyperopia
Astigmatism
And Other Common Eye Conditions
The procedure utilizes advanced lasers to precisely and delicately correct these vision issues. By creating a thin flap in the cornea, your LASIK surgeon can reshape the cornea, leaving you with 20/20 vision or better.
Am I a Candidate for LASIK?
Our northern San Antonio eye doctor has years of experience evaluating potential LASIK candidates and is happy to work closely with you to determine your eligibility. However, there are a few main factors that will help us determine whether or not LASIK is right for you, including:
LASIK candidates must be 18 or older.
Your eyes should be generally healthy with no eye diseases or corneal abnormalities.
Patients must be able to lie flat without difficulty or discomfort during the procedure.
Do you play sports, have allergies or are you looking to simplify your lifestyle without the use of contact and eyeglasses?
Can you stop wearing contacts for at least 2 to 4 weeks before the procedure?
In addition to advanced diagnostic testing, our northern San Antonio eye doctor will consider these questions when performing a pre-operative evaluation with you. If you are determined to be a good candidate for the procedure, our eye doctor in northern San Antonio will then begin the referral process to find a qualified LASIK surgeon in the area.
Post-Operative Care with Our Optometrist in Northern San Antonio
Once we've scheduled your surgery, our eye doctor in northern San Antonio will schedule several follow-up appointments to track your healing progress. Typically, your first appointment will be the day after surgery and continue over the course of the next 6 months. After a full calendar year, a final comprehensive eye exam is recommended. Our experienced team will be there to help you through any discomforts, including dry eye and make sure you have everything you need to make sure your LASIK surgery is a success!
Our friendly optometry team is here to answer your questions and determine if you may be a candidate. Call (210) 988-9518 or visit our optometrist in northern San Antonio at Vision Source Castle Hills online today to schedule an initial consultation.